Where's Kathy?
Super Science
Cyber School Day 
Monday, January 23
Academy of Natural Sciences 
Philadelphia, PA 
Super Science Cyber School Day is a full day of fun hands-on science for cyber school students of all ages. Meet kids and families from the Philadelphia area and come face-to -face with live animals, handle real fossils, plan your own experiment and meet super science experts! Show off your dino-smarts in a fun and fast paced prehistoric gameshow with Kids Corner host Kathy O'Connell. Explore the fascinating STEM world with your fellow young scientists and meet representatives from the local cyber school, virtual school and homeschooling community at the Resource Fair. For more information AND to register, visit ansp.org
The Okee Dokee Brothers
Saturday March 11, 11AM
Montgomery County Community College
Science Center Theater 
Blue Bell, PA 
Join Kids Corner host Kathy O'Connell as she welcomes Kids Corner faves, The Okee Dokee Brothers - a Grammy-winning duo - back to our region! They've performed family-oriented Americana folk music for years, that inspires kids to go outside, be creative and gain a greater respect for the natural world and their communities. The Okee Dokee Brothers have earned praise and drawn a nationwide fan base thanks to their witty lyrics and unique style. For more information, visit mc3.edu
Kindie Music LIVE!
We love Kindie music (that's independent music for kids - Kindie!) and there's only one thing better than listening to the latest songs from your favorite Kindie artists, and that is seeing them LIVE on stage! Below is a list of just some of the wonderful live music for families happening in our region in the coming months.
January 21: Lolly & Yoyo / World Cafe Live, Philly
February 12: Stevesongs / World Cafe Live, Philly

March 11: The Cat's Pajamas / World Cafe Live, Wilmington
March 18: Alex & The Kaleidoscope / World Cafe Live, Wilmington 
May 6: Raffi / The Keswick Theatre, Glenside
Junie B. Jones Essential Survival Guide To School
Thursday, February 2 10:30am
The Keswick Theatre
Glenside, PA 
From bus rules to band-aids, carpools to cookies, Junie B. and friends deliver the definitive word on surviving and thriving in style. With a jillion tips, tricks and trip-ups, Junie B. shares her hard-won expertise and shows us all how school is sometimes scary, sometimes super-fun, and ALWAYS something to sing about!  For more info, keswicktheatre.com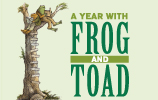 A Year With Frog And Toad
@ The Arden Theatre 
Now through February 3
Philadelphia, PA 

rog and Toad are back! In a revival of one of the Arden's most treasured children's theatre productions, an unlikely friendship between the cheerful Frog and the rather grumpy Toad blossoms and grows as they travel through four fun-filled seasons learning life lessons along the way. For more info, ardentheatre.org
Garfield: The Musical With Cattitude
February 3-18
Walnut Street Theatre
Philadelphia, PA
Garfield, that chubby and sarcastic tabby cat, wants to have the best birthday ever. But his friends, Arlene, Odie, Jon and even his nemesis, Nermal, seem to have forgotten. Me-owch! Garfield runs away, but quickly learns that "home is where the heart… and the food is."  For more info, walnutstreettheatre.org
The Immaculata Symphony Youth Concert
Sunday, February 12 / 3pm
Immaculata University
Immaculata, PA 
the Immaculata Symphony performs some of the most exciting music written to accompany our favorite heroes and villains. Learn about the instruments of the orchestra, how a composer writes music, and even get a chance to conduct the orchestra! For more info, immaculatasymphony.org