Kindie Music LIVE!
We love Kindie music (that's independent music for kids - Kindie!) and there's only one thing better than listening to the latest songs from your favorite Kindie artists, and that is seeing them LIVE on stage! Below is a list of just some of the wonderful live music for families happening in our region in the coming months.
October 7: Yosi, Baze & Two of a Kind / Collingswood Book Festival, Collingswood NJ
October 14: Ratboy Jr / World Cafe Live, Philly
October 21: We Kids Rock Band / World Cafe Live, Philly
November 4: Miss Nina Meets the Jungle Gym Jam / World Cafe Live, Philly
November 11: Alex and the Kaleidoscope / World Cafe Live, Philly
December 2: The Cat's Pajamas / World Cafe Live, Philly
The PA Ballet presents
The Sleeping Beauty
The Academy of Music
October 12 - 22 
Philadelphia, PA
Enjoy this glorious world of enchantment, magic, tragedy and true love – where everyone really does live happily ever after. Tchaikovsky's haunting and familiar score will enhance your enjoyment of this classical ballet for all ages. For more info, paballet.org
The American Birding Expo
September 29 - October 1
Greater Philadelphia Expo Center in Oaks, PA 
It's the World of Birding in one place! The American Birding Expo is North America's largest retail-sales event for birders. Our exhibitors represent every aspect of the birding/nature market, including tours, travel, destinations, optics and photography products, clothing, gear, bird feeding/housing products, books, apps, and more! For more info, americanbirdingexpo.com/
15th Annual
Collingswood Book Festival 
Saturday, October 7
Collingswood, NJ - FREE!
Book lovers of all ages gather in Collingswood and stroll more than six blocks of Haddon Avenue filled with authors/speakers for adults and children, as well as booksellers, storytellers, poetry readings, workshops, exhibitors, kid-friendly activities, and entertainment for all ages including performances from Yosi, Baze and Two of a Kind! Remember, all events are free! For more info, collingswoodbookfestival.com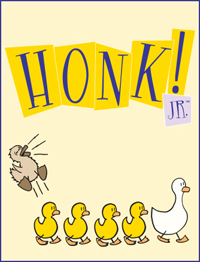 Honk! Jr
Sunday, October 8
Walnut Street Theatre
Philadelphia, PA 
This musical adaptation of The Ugly Duckling will have kids celebrating what makes them unique! Ugly is one odd looking baby duck that doesn't quite fit in. In one wild adventure he soon learns to accept and love what makes him different. For more info, walnutstreettheatre.org