Where's Kathy?
The Okee Dokee Brothers
Saturday March 11, 11AM
Montgomery County Community College
Science Center Theater 
Blue Bell, PA 
Join Kids Corner host Kathy O'Connell as she welcomes Kids Corner faves, The Okee Dokee Brothers - a Grammy-winning duo - back to our region! They've performed family-oriented Americana folk music for years, that inspires kids to go outside, be creative and gain a greater respect for the natural world and their communities. The Okee Dokee Brothers have earned praise and drawn a nationwide fan base thanks to their witty lyrics and unique style. For more information, visit mc3.edu
Kindie Music LIVE!
We love Kindie music (that's independent music for kids - Kindie!) and there's only one thing better than listening to the latest songs from your favorite Kindie artists, and that is seeing them LIVE on stage! Below is a list of just some of the wonderful live music for families happening in our region in the coming months.
March 11: The Cat's Pajamas / World Cafe Live, Wilmington
March 18: Alex & The Kaleidoscope / World Cafe Live, Wilmington 
May 6: Raffi / The Keswick Theatre, Glenside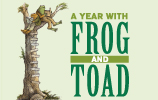 A Year With Frog And Toad
@ McCarter Theatre
Saturday March 4
Princeton, NJ 

Based on Arnold Lobel's beloved children's books, A Year with Frog and Toad hops from page to stage as it follows two great friends—the cheerful, popular Frog and the rather grumpy, curmudgeonly Toad—through four fun-filled seasons. Part vaudeville, part make-believe, and all charm, A Year with Frog and Toad is an inventive and enchanting experience for the whole family! For more info, mccarter.org
Garfield: The Musical With Cattitude
Now through February 18
Walnut Street Theatre
Philadelphia, PA
Garfield, that chubby and sarcastic tabby cat, wants to have the best birthday ever. But his friends, Arlene, Odie, Jon and even his nemesis, Nermal, seem to have forgotten. Me-owch! Garfield runs away, but quickly learns that "home is where the heart… and the food is."  For more info, walnutstreettheatre.org