Where's Kathy?
The Cat's Pajamas
Farewell Concert 
Sat Dec 1 10:30am
World Cafe Live
Philadelphia, PA 
Kathy is honored to host the final concert by The Cat's Pajamas! And it's not just a concert, they are turning it into a movie starring you! After 28 years, the Cat's Pajamas are celebrating their retirement with a great big finale at World Cafe Live - complete with a huge New Orleans-style parade, horn section and a 9-piece band. The party will be bursting with balloons, noisemakers, beads and parasols as they film this farewell concert for their final live concert DVD! For more info, howlinrecords.com
---
Wow in the World Pop Up Party
Sat Dec 8 11am
The Keswick Theatre
Glenside PA 
Join Kathy as she welcomes the Wow in the World Pop Up Party - an insanely popular science-themed podcast out in the world - to the Keswick Theatre! Podcast host Mindy Thomas weaves short interactive games and foley-infused comedy skits between science themed songs from The Pop Ups! This highly interactive show will engage curious kids and their grown-ups in science, wonder, imagination, and music and leave them all saying "WOW"! For more info, keswicktheatre.com
The Okee Dokee Brothers
Sun Jan 6, 12:30pm
The Sellersville Theater
Sellersvile, PA
Justin Lansing and Joe Mailander have been exploring the outdoors together since they were kids. Now, as the Grammy winning Okee Dokee Brothers, they write songs to encourage kids and families to get outside and get creative. This winter they'll stop by Sellersville to break you out of cabin fever and share songs from their new album 'Winterland,' a tribute to the season of coziness, family time and outdoor fun! For more info, theater.st94.com
The National Dog Show
Nov 17 & 18
The Greater Phila Expo Center  
Oaks, PA
The Kennel Club of Philadelphia (KCP) and its predecessor clubs have been presenting dog shows since 1879. See over 2,000 of the top American Kennel Club sanctioned dogs from across the country. Over 150 different breeds and varieties compete for best of Breed, First in Group and the coveted title of Best in Show. Each day brings different competitions and attractions. For more info, nationaldogshow.com
The 2018 Philadelphia Holiday Festival
Various Dates/Locations
Philadelphia PA 
This 5 week long holiday festival begins with Philly's 99th annual Thanksgiving Parade on Nov. 22 and ends with the Mummers Parade on New Year's Day. In between, there will be plenty of events, including the tree-lighting ceremony at City Hall from 5:30 to 7 p.m. on Nov. 28; Christmas Village in LOVE Park; and the Made in Philadelphia Market, the City Hall light show, the Blue Cross RiverRink Winterfest, and more! For more info, phillyholidayfestival.com
Roald Dahl's
Matilda the Musical
Now thru Jan 6
Walnut Street Theatre
PhiladelphaNorristown, PA
The inspiring story of an extraordinary girl comes to life in Matilda, the Musical. Based on the beloved Roald Dahl novel, Matilda is the story of the courageous little girl with an unbounded imagination who proves that despite the odds, you can do anything you put your mind to—and change your destiny. Children and adults alike will be thrilled and delighted by this Broadway hit and winner of 16 Best Musical awards! For more info, walnutstreettheatre.org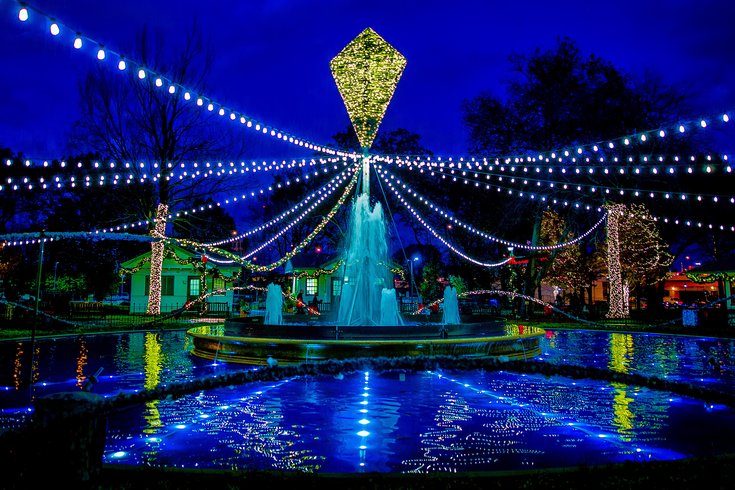 Franklin Square Holiday Festival 
Opening Night 
Thursday Nov 15 4:30-8pm
Franklin Square 
Philadelphia, PA - FREE  
Kickoff the holiday season with the first Electrical Spectacle Holiday Light Show of the year presented by PECO! Marvel at more than 75,000 lights as you enjoy seasonal foods and beers at SquareBurger, Ben's Sweets & Treats and the Winter Beer Garden! The Festival is FREE and open daily (except Thanksgiving and Christmas Day) until December 31. For more info, historicphiladelphia.org
Family Fall Film Series
The Colonial Theatre 
Phoenixville, PA
Once again the Colonial Theatre invites families to view some classic movies as they were meant to be seen - on the big screen!
Nov 17: The Last Starfighter
Nov 24: Back To The Future
Dec 8: Home Alone
Dec 22: A Christmas Story
Dec 29: A Tree Grows In Brooklyn
​For more info, visit, thecolonialtheatre.com